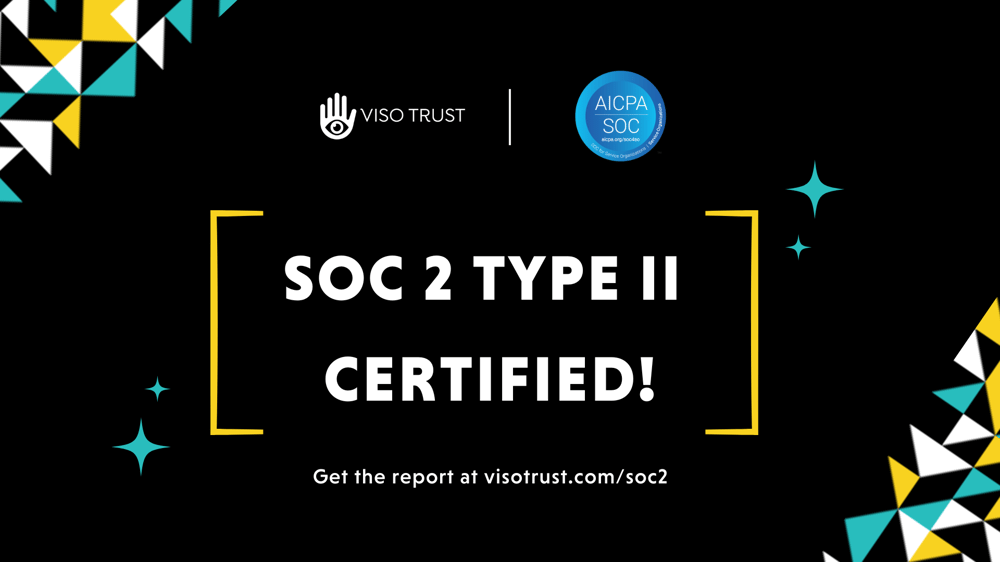 Announcing SOC 2 Type 2 and SOC 3 Compliance at VISO Trust
Today, we're excited to announce that we've successfully completed our SOC 2 Type 2 and SOC 3 audit!

Check out our press release here.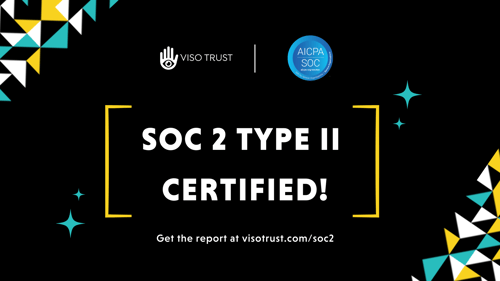 This is a testament to the VISO Trust platform and our team's commitment to the security of your data. Ensuring that customer and third-party partner data security is fundamental to the VISO Trust platform and solution. Security and trust is part of our DNA. Our security program is driven not only by a strong culture of security, but by a comprehensive set of policies and procedures that govern and guide our day to day activities. VISO has adopted a zero trust strategy and we protect your data by implementing reliable and up-to-date security measures and following industry best practices.
What does this mean for you?
Security is built into everything we do from design to implementation. Since the beginning of our company, our founders and team have prioritized continuously securing the data entrusted to us by our clients and vendors.
Ultimately, we want to assure our customers and partners that your data is safe and secure with VISO Trust. Building and maintaining trust and transparency with our customers is at the forefront of everything we do as a security company. We know that many of you place incredible trust in us with your data. Achieving SOC 2 Type 2 and SOC 3 is one way to provide you with assurances that we are protecting your data by following industry best practices.
We hope this update helps you and your security and IT teams rest easy knowing that your data in VISO Trust is secure.
To learn more about our security policies and initiatives, visit our Security page.
VISO Trust SOC 2 Type 2 and SOC 3 Report is available upon request to current and prospective customers and relevant organizations. Fill out this form for a copy of the report.
Don't want to read another SOC 2 report?
No problem! This is where we excel. VISO Trust has an AI-powered platform that completely automates your vendor due diligence and TPRM process. You don't have to read our SOC 2 or other reports like ISO 27001.
Schedule a demo to learn more.
What's next for VISO Trust?
VISO Trust is committed to carrying out ongoing SOC 2 Type 2 and SOC 3 audits moving forward to ensure we continue to maintain and improve on our security practices. SOC 2 Type 2 audits and reports are only one way to demonstrate our commitment towards security. We're not stopping here and we plan to pursue our ISO 27001 Certification next.
If you have any questions, please get in touch at [email protected].