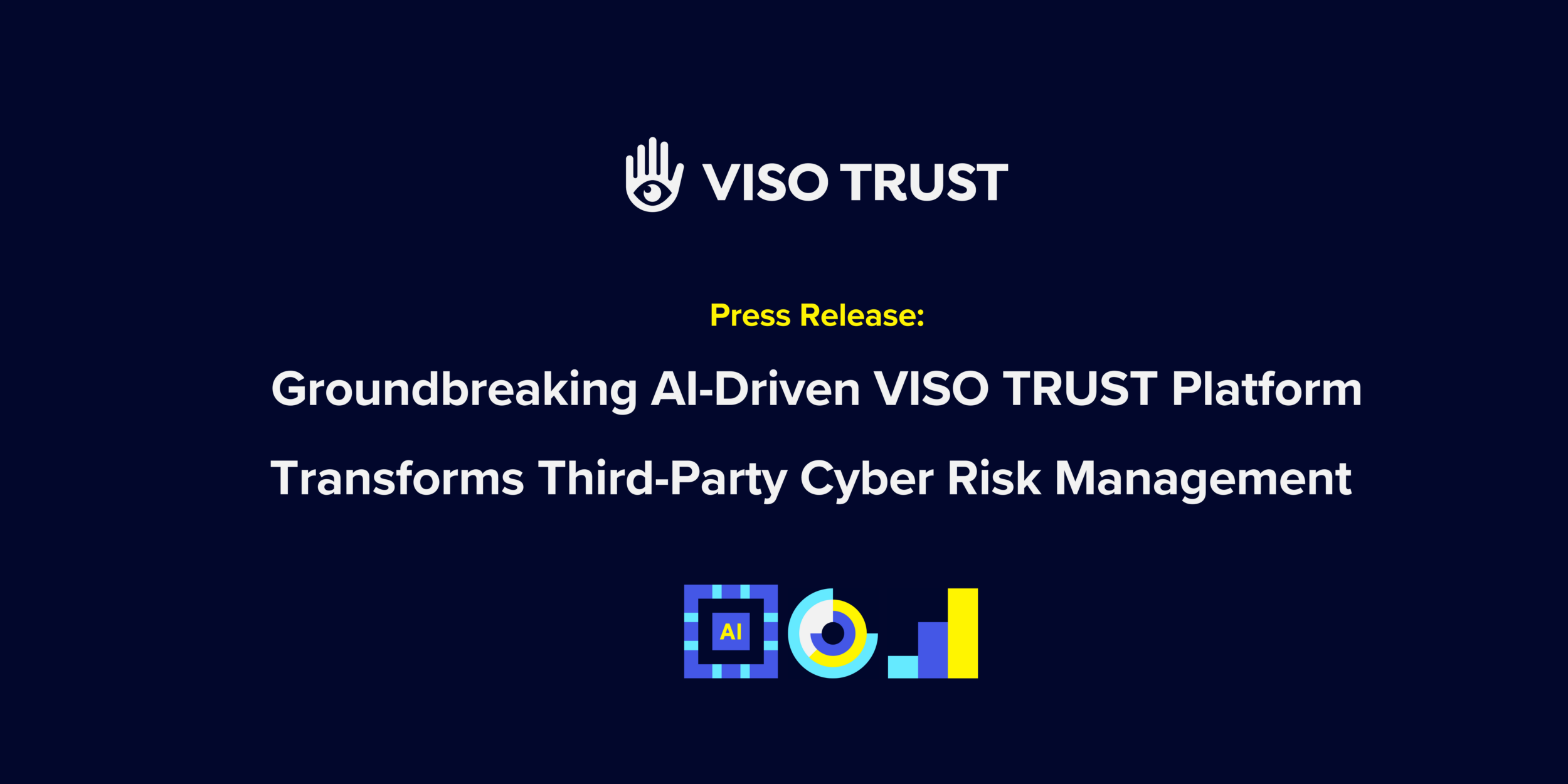 Press Release: AI-Driven Cyber Risk Platform
Groundbreaking AI-Driven VISO TRUST Platform Transforms Third-Party Cyber Risk Management – Enables Risk Assessments in Minutes, not Months
Identifies High-Risk Vendors with 500% Greater Accuracy, Redefining TPRM Effectiveness, Eliminating Bottlenecks, Enabling Near Real-Time Cybersecurity Control Detection/Analysis
[San Francisco, October 25, 2023] – VISO TRUST, the pioneering leader in AI-driven third-party risk management (TPRM), today introduced a major update and several industry-first features and innovations to its AI-driven TPRM platform to fundamentally transform the reach, effectiveness, operational efficiency and economics of TPRM programs. 
The platform was first conceived in 2016 by and for CISOs and risk professionals, and its first AI-driven innovations were patented in 2017. Its 2020 introduction incorporated requirements gathered from more than 300 CISOs. Today, it's relied upon by many of the largest and most mature companies, contains more than 2.4 million companies in the vendor database, recognizes more than 25 security frameworks, and leverages hundreds of different types of source artifacts. 
With today's new features (see below), the VISO TRUST platform lets organizations complete complex vendor assessments and identify high-risk vendors at a pace and precision level otherwise unknown, and that offers substantially greater market agility, as named customer endorsements confirm. 
The mass migration of data onto third and Nth party SaaS, PaaS, and IaaS platforms now puts sensitive data at unprecedented risk. A platform that ingests TPRM data from the broad universe of sources with extreme accuracy, speed and ease of operation is emerging as an urgent need. VISO TRUST's platform fully and elegantly addresses this crucial market gap with near real-time vendor risk analysis which dramatically lowers risk assessment costs and sharply improves accuracy of cyber threat detection. 
Paul Valente, CEO of VISO TRUST, emphasized the transformative impact of the technology, stating, "VISO TRUST's AI-driven breakthrough heralds a paradigm shift that will redefine third-party risk management effectiveness. By translating complex security information into actionable insights sourced from diverse artifacts and evidence, we empower organizations to make informed decisions with unparalleled precision and timeliness."
New VISO TRUST Platform Features: 
Rapid Risk Analysis

: Lightning-fast vendor risk analysis reduces assessment time from months to minutes, empowering organizations to make swift, informed decisions with 5x more relevant findings than are typically found with manual and alternative automated approaches.

Infinite Potential Risk Network Ecosystem

: The VISO TRUST Risk Network fosters collaboration and information sharing among organizations, strengthening collective security and resilience across growing third and Nth party relationships.

Expansion of New Controls Detection

: VISO TRUST's "Risk Dimensions" extends coverage across various risk areas, including AI trust, cyber insurance, resilience, privacy, relevant regulatory compliance and product security, providing a comprehensive view of vulnerabilities. This next-level visibility empowers organizations to proactively identify and mitigate risks across a wide spectrum of security domains.

Expansion of Artifact Intelligence

: VISO TRUST's platform leverages generative AI to enable unprecedented use cases, seamlessly translating security control information between questionnaires and diverse source artifacts and evidence.

Cumulative Impacts:

The impacts of these technological advancements is staggering. Organizations can now achieve a reduction in third-party security risk exceeding 95%, spend less than 5 minutes to assess a vendor, and are 5 times more likely to identify high-risk vendors, setting a new industry standard for security, risk management and compliance teams and leaders.
Artifact Intelligence, VISO TRUST's patented AI-driven TPRM process, seamlessly translates security control information. It is backed by an exceptional assurance and risk modeling accuracy rate exceeding 98%. It derives information from an extensive range of public and private sources, including policies, standards, trust portals, trust reports (such as SOC, ISO, and PCI reports), penetration test reports, and automated compliance platforms.
"VISO TRUST's continued innovation represents a quantum leap in third-party risk management," said Enrique Salem, Partner at Bain Capital Ventures. "The ability to harness AI for synthesizing information from diverse sources into actionable insights is a game-changer for third-party and cyber risk."
Customer Results
Prominent industry leaders and organizations have used and embraced VISO TRUST's innovative platform. Their results:
Patti Degnan, CISO at Notion:

"VISO TRUST's AI-powered TPRM solution enabled our security team to complete more third party assessments with greater accuracy and elevated our security posture".

Mark Sutton, Managing Director & CISO at Bain Capital:

"VISO TRUST's technical innovation has substantially reduced the uncertainty in our third-party risk assessments, enabling data-driven decisions and operational efficiency."

James Nelson, VP of Information Security at Illumio

: "VISO TRUST has enabled us to bring the security staff time per relationship down from more than 8 hours to only 30 minutes—for us that's gold." 
Valente concluded: "Customers are reporting a 95 percent reduction in third-party security risk compared to traditional TPRM approaches. Vendor assessments are completed within five minutes compared to weeks or months, and we're seeing a 500 percent increase in identifying high-risk vendors. The consistency, speed and sophistication with which attackers now reach through third parties to attack their primary targets demands an entirely new class of cyber risk analysis. VISO TRUST fills this need completely."
Elevate your third party risk management with AI:
VISO TRUST's AI enables organizations to transform and scale their approach to cyber risk management. Their intuitive platform simplifies vendor risk assessments with AI and surfaces critical risk metrics for smarter and faster vendor assessments. 
Take a self-guided interactive demo of  VISO's AI platform or create an account to send an AI cyber risk assessment at no cost.
About VISO TRUST:
VISO TRUST's AI-powered third-party risk management (TPRM) platform leverages a collection of industry leading proprietary, patented artificial intelligence services called Artifact Intelligence – which discovers, classifies, and assesses relevant control information in source artifacts that third parties already have. VISO TRUST empowers organizations to assess and mitigate third-party risks with unparalleled precision and efficiency. 
Founded by CEO Paul Valente and CTO Russell Sherman, VISO TRUST leads the revolution in TPRM. Its innovative features and unparalleled reduction in third-party security risk position VISO TRUST at the forefront of cybersecurity practices.
For more information, go to www.visotrust.com or follow the company on LinkedIn.
Additional Resources:
For media inquiries, please contact:
Dan Chmielewski
Madison Alexander PR
949.231.2965